Black Feather Fitness
About the website:
Black Feather Fitness is a website of WBFF PRO Championship winner – Muna Breitem, from California, USA who aims to provide the best online training regimen to the fitness admirers. This ecommerce website offers different membership plans like Standard, Premium and Elite along with a special top-of-the-line 'Competition Package' for people who wish to do fitness competitions.
URL: www.blackfeatherfitness.com
Client Requirements:
The client wanted to re-design and re-develop her website into a membership website with extremely alluring designs and images. Through this website, the client can provide easy and fun loving tips on fitness and workouts to stay fit, healthy and beautiful. To have access to any of the fitness plans on this site it's mandatory for every user to register themselves first. The site features 2 special blogs by the name "Workouts" and "Recipes" wherein they will provide access to blog posts, videos & pictures of workouts and healthy recipes which will not be visible to the regular visitors but only to members.
DETAILED FEATURES
Features
This tab lets the users to know about all the available plans and packages for fitness and things you can shop for. There are two blogs titled 'Workouts' and 'Recipes' which are visible only to the users who have taken membership of any of the plans mentioned below:
1. Standard Plan/Silver Plan: – Standard Plan includes the Weekly Workouts with video support, Healthy Recipes and Standard Email Support.
2. Premium Plan/Gold Plan: – Premium Plan includes all the benefits of Standard Plan + Macro Based Nutritional Plan, Exclusive Photo Gallery, Bimonthly Follow-Ups and High-Priority Email Support.
3. Elite Plan/Platinum Plan: – Elite Plan includes all features of premium plan + Detailed Initial Email Consultation, Personalized Nutritional Guide, Personalized Workout Regimen and 50 minute Skype Sessions every 3 months.
4. Competition Package: – This plan is the top-of-the-line and especially meant for those who wish to take their fitness regime to the next level like people who are preparing for fitness competitions or who are already there and wish to hone their skills. It includes a Customized Workout Strategy, a Detailed Nutritional Plan along with a Shopping List, all of which will be reviewed every 3 months.
5. Shop: – Though the plans are quite comprehensive, but if the users still wish to personalize their plans or are interested in getting some things, they can pay a little extra to shop here for Extra Skype Sessions, Early Modifications in their meal plans, Muna Breitem branded merchandise and last but not the least, the most interesting one; one can ask Muna Breitem to fly to their location and train with them.
Join Now
This tab gives summarizes all the three plans along with their costing on monthly basis which makes it easier for the user to compare and choose the one that is best suited for them. The steps explaining the process are mentioned below:
1. Click on 'Choose' to select any of the plans.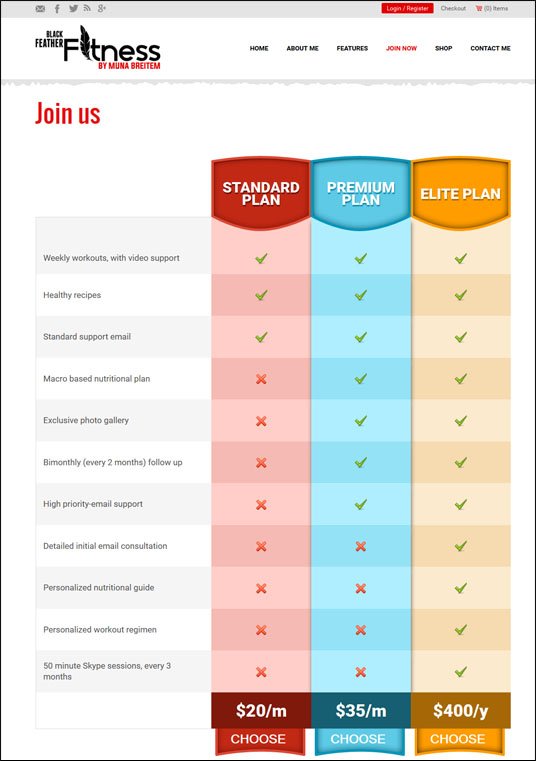 2. After selecting the plan, the website will take the user to the payment page. But before proceeding further, the user needs to do the registration or login. Here, there is also an option for changing the membership plan. A new user can create account by filling all the required details under Account information.
3. A registered user can login by clicking on 'Already have an account? Log in here' on the above page.
4. Once the payment is done the user can see all the blogs and benefits of the plan in the drop down box. 'Membership Account' will display the plan type, past invoices and option to edit profile like change of address.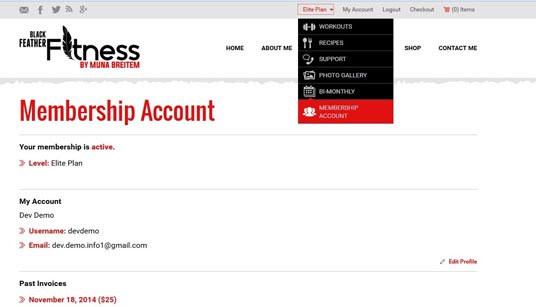 Industry: Fitness Industry
Website Features:
Login/Register
Recuring Payments
Responsive
Parallax Scrolling
Contact Form
Testimonials
Social Sharing
Email Support
Payment Gateway by Stripe
Technology:
PHP
HTML
MySQL
JQuery
CSS
Open source:
WordPress with WooCommerce
Solutions Provided:
Website design & development, Ecommerce Website Development, WordPress Development, Woocommerce, Order Management, Categories Management, User Management, Email Template Management.
With this beautiful website design, we hope our client will capture the mind and hearts of all fitness freaks out there.