Penny Miller
About the website:
Penny Miller is a renowned name in home shopping and personalised catalogue delivery since its inception in 2005. 100 % Australian owned, they are committed to providing a variety of products at reasonable prices and the ease of ordering from home. Besides offering a wide variety of products the client also offers job opportunities to everyday people who are looking to earn extra. Their collection of products includes vast collection of home, gardenware products, tools, clothing, gift items, household gadgets etc.
URL: http://www.pennymiller.com.au/
Client Requirements:
The client who is based out of Australia approached us for website design & development with new dimensions. They wanted to have an extremely attractive website for their customers and a nice presentation of their products. The beauty of this site lies in its design and easy accessibility. We have used sliding banner along with a combination of vibrant and subtle colours to give a professional yet eye catching look to the website. The website layout, easy navigation, innovative buttons designs are a value addition to the site.
Industry: Home Shopping
Website Features:
Ecommerce Web Design
Responsive Website
Carousel Slider Banner on the home page
Accordion (Collapsible content panels) (http://www.pennymiller.com.au/faq/)
Video embedding
Search Button (search facility through name and SKU)E
Earning Opportunities through "Join Now" button
Horizontal Sliders
Social Sharing
Categories of Contact Form
Technology:
Open Source:
WordPress with WooCommerce
Solutions Provided:
Website design & development, Ecommerce Web Development including modules like Shopping Cart, Order Management, Product Management, Categories Management, Shipping Management.
DETAILED FEATURES
1) JOIN NOW
On clicking 'Join Now' button, a form appears stating "Complete your details below and a Penny Miller Representative will be in contact shortly". The form has the basic necessary fields to be filled and one special column for choosing the interested job area to work in.
2) EARN MONEY
This page shows three roles of jobs for which you can apply, i.e. Distributor, Area Coordinator and Zone Manager.
On clicking any of the roles above, the respective job profile gets displayed along with the option to apply for the same role through the same form as displayed in "Join now" option in the first point. The only difference in the form is that there is no need to select the role. It will be displayed automatically.
3) SHOP
This tab shows various product categories of the Penny Miller Catalogue like Homewares & Manchester, Kitchenware, Laundry, Bathroom & Cleaning and many more.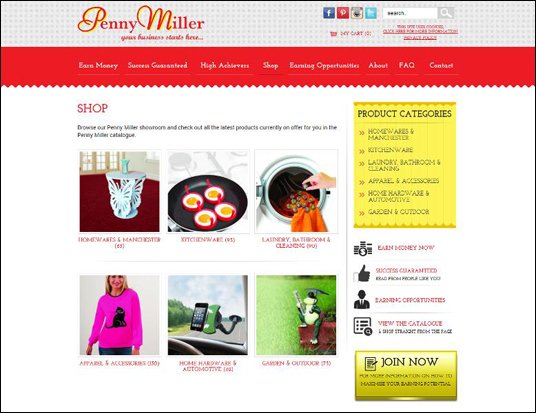 On clicking any of the categories above, products in that category get displayed along with the price and option to 'Add to Cart' for shopping.
Each product is identified by a SKU code which makes it easier to search and shop for it. Necessary details like -Description, Payment, Delivery and Returns are displayed for each product along with its pricing, quantity and feature to share on social platforms. You can also zoom in the image to view different angles as per the usage.
4) EARNING OPPORTUNITIES
Here, you have to first select the state where you wish to apply for the job.
Then, you can choose amongst the jobs available for the selected state.
After selecting the job, it will show its details like the remuneration, desired qualifications , education and experience to apply for the job. From here you can apply for the job by clicking "Apply Now" button and the same form will appear as in point 1.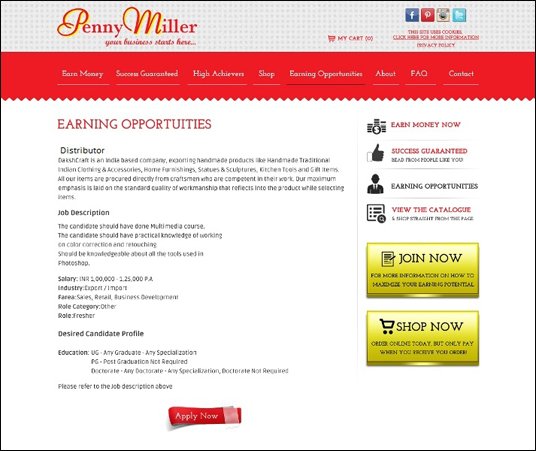 With this powerful website design, we hope the client is able to do better and make a mark for itself in Australia.